NATURALLY SWEET WINES
Throughout history, people have drunk naturally sweet wines in the Mediterranean and beyond. Here in Roussillon, we have used the mutage technique since the 13th century, adding alcohol during fermentation to make naturally sweet wines that travel well. We are perpetuating this tradition with a range of exceptionally fine, light wines.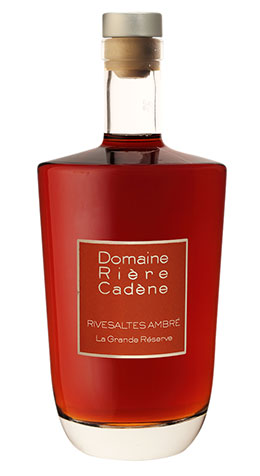 GRANDE RÉSERVE
Welcome to a world of overwhelming aromas, in which dried apricot rubs shoulders with citrus, and cocoa jostles for position with notes of coffee, old leather and hazelnuts, with all the subtlety of an abstract painting. Its balance in the mouth is the result of astutely controlled sweetness and slightly acidic freshness.
This wine is the fruit of a lifetime's labors, years of patient hard work captured in just 800 bottles of a rare and wonderful wine that's part of our historical heritage.
Grande Réserve is best enjoyed with smoked salmon, or truffle and olive oil toast. Its lively smoothness makes it the perfect companion for foie gras, while its breadth and aromatic strength pair perfectly with a strong Roquefort. It can equally be enjoyed on its own as a spectacular finale to a meal.
AOP Rivesaltes hors d'âge
Grapes: Macabeu, Grenache (white and grey)
How we make it: Fortified and barn aged for up to 23 years using the solera technique
MUSCAT DE RIVESALTES
An explosion of subtle sweet aromas. Drink it young, and you'll taste the traditional muscat notes of pear, rose and lychee. Leave it to age, and it evolves towards apricot, peach, quince and other yellow-fleshed fruits, and there's also a hint of toast.
Muscat de Rivesaltes is traditionally paired with a veined cheese such as Roquefort (or a dish containing it, such as aumonière poire et Roquefort). It's also surprisingly good with aperitifs such as foie gras on toast, Collioure anchovies, and brandade de morue. And it's the perfect companion for a whole range of desserts, like almond and raspberry blancmange, lemon meringue tart, and exotic fruit salad.
AOP Muscat de Rivesaltes
Grape: Muscat d'Alexandrie
Soil: Agly valley, in a vineyard known as Le Gendarme located on a hard Corbières limestone ejection cone and the crystalline rocks of Agly, with red Mediterranean soil.
How we make it: The grapes are direct pressed, macerated on the lees, and vinified at low temperature, with wine alcohol being added during fermentation. The wine is bottled early to conserve its primary aromas.


RIVESALTES GRENAT
Rivesaltes Grenat is a naturally sweet wine made in a reductive environment, out of contact with air, in barrels. It is a complex and multifaceted wine, with notes of black cherry, fruits in eau de vie, cocoa, prune and fig, and a fresh finish with a subtle cherrystone flavor. It works best with an aperitif or dessert.
As an aperitif, serve it at 16°C with pruneaux lardés and melon; alternatively, pair it with game in sauce or sweet-and-savory dishes such as tajine aux pruneaux and dried fruit. For dessert, it's the perfect accompaniment to dark chocolate or red fruit tarts.
AOP Rivesaltes Grenat
Grape: Grenache
Soil: Agly valley, black schist
How we make it: The grapes are destemmed, and macerated during fermentation (like a red wine). Alcohol is added to the must while it is fermenting, to bring out the aromatics, color and tannins without physically altering the wine. Maceration is long, lasting around four weeks, and is followed by extraction of the free-run juice and gentle pressing. The wine is then reductively aged in tanks to preserve its aromatic freshness.
Contact
+33 (0)4 68 63 87 29